TNA Impact Wrestling – May 31 2012
TNA Impact Wrestling May 30 2012 live from the Impact Zone in Orlando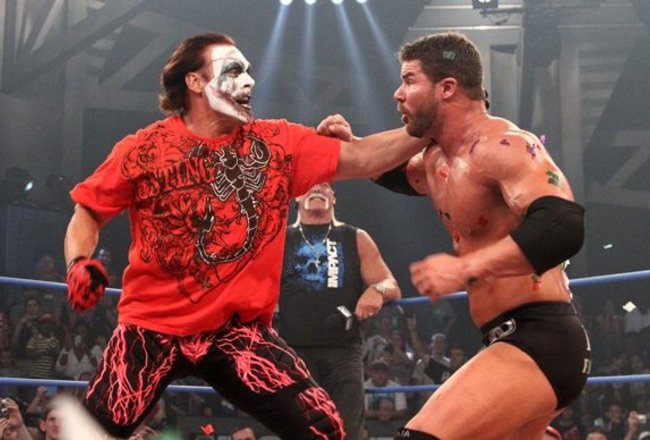 We are live from the Impact Zone in Orlando, Florida. We get a recap of Bobby Roode's 7-month title reign, leading up to Sting returning . We get right to business with a lumberjack match between the two starting things off.

TNA Impact Wrestling May 31 2012 results
TNA Impact Wrestling Match 1 – Lumberjack – Sting vs Bobby Roode
Sting wins the non-title bout by making Roode tap with the Scorpion Deathlock.
As Sting celebrates after match, Hogan's music hits and out comes the Hulkster. He congratulates Sting and puts him in the main event against Roode at Salmmiversary for the TNA World Title.
Madison Rayne is backstage, saying that she and Brooke Hogan (who makes her debut tonight) will get along just fine, but she seems more concerned about that guy she has a crush on.
Bully Ray is in the ring and he calls out Joseph Park again. He runs him down and then talks about his family, which pisses Park off. He makes his way down to the ring and security tries to stop him, but Bully says tells them to let him in. Ray confesses he left Abyss for dead and Park grabs him by the neck, forcing him down on his knees. Bully says that if Park hits him, he'll sue. Park says he won't stoop to Bully's level. Bully calls him and Abyss cowards before leaving the ring. Park challenges Bully to a fight and Bully accepts for Slammiversary.
TNA Impact Wrestling Match 2 – X-Division Title – Austin Aries vs Chris Sabin
Austin Aries wins the fast paced match with a rollup.
Hulk Hogan and Taz are backstage talking about Gut Check. It looks like Taz is joining the judges.
Footage of Taz, Al Snow and Bruce Prichard looking at Joey Ryan's Gut Check tape. They talk about his character and the match against Austin Aries.
JB is backstage with RVD, Jeff Hardy, Robbie E and Mr Anderson. He encourages everyone to vote on Devon's opponent for the TV title.
Out comes Dixie Carter. She talks about how TNA is turning 10 years old and how proud she is of the talent and the fans. At Slammiversary we will see the first inductee into the TNA Hall of Fame. She then puts Brooke Hogan over as part of the TNA Knockouts division and out she comes to a mixed reaction. She talks about what an exciting opportunity this is and Dixie puts her over some more.
Match 3 – TNA TV Title – Devon vs Jeff Hardy
An intense back and forth match is thrown out as The Robbies interfere and attack both men but get beaten back.
Gut Check is next, but first a recap of AJ Styles' feud with Daniels and Kazarian.
Bruce Pritchard, Al Snow and Taz are in the ring for Gut Check. Out comes Joey Ryan. Bruce Pritchard votes no because he expected to see more out of Ryan's experience. Al Snow votes yes because of potential. Ryan gets a last chance to put himself over. He runs down Bruce Pritchard and talks about his social media exposure and trending on Twitter. Taz says that was not a lifesaving promo, so he votes no. Ryan gets mad and gets into a shouting match with Taz. Ryan does not get the job.
Video of Bobby Roode talking to his London fans after beating AJ Styles.
Main Event – AJ Styles vs Christopher Daniels
AJ Styles gets the win with an iverted DDT.
After the match Kazarian jumps in as the tag champs proceed to beat AJ down. Angle runs in for the save, but he's unsuccessful. Daniels gets on the mic with more proof – an incriminating phone call between AJ and Dixie. Dixie runs out and tells the broadcast crew the shut it off as TNA Impact Wrestling goes off the air.