The Hottest Kisses in WWE History
8. Viscera & Candice Michelle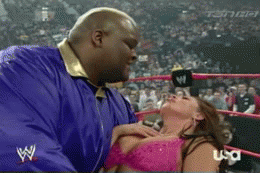 In 2004, Viscera must've obtained footage of Vince McMahon in an adulterous affair of his own because he suddenly went from the same spot of lower-card irrelevance that he'd been in for years to… the exact same spot but clad in satin pajamas, making out with half of the Divas!
Beginning initially with a bizarre relationship with ring announcer Lilian Garcia, Viscera refused her proposal at Vengeance 2005 to take a ride on the Godfather's Ho Train and followed suit by making out with Vince's "devil" Candice Michelle.
To be fair to both Viscera and Candice, they made this kiss work and held nothing back! Candice actually looked genuinely surprised by its ferocity afterwards. She had, of course, married the love of her life and father of her two children only mere months before.